Last updated 2023 January 12
---
Advisement and Enrollment Guide
1. Important Links
2. Overload
3. Residence
Students enroll in "Residence" for purposes of being classified and considered as bonafide students, i.e. officially enrolled. Residence is intended for students who have

completed their course work and have no other course to enroll in their program, except to complete or remove deficiencies

.
Students who have finished all their course work and are just working on their thesis may enroll for residence. Similarly, students who are not enrolled in any subject but who want to complete an "INC" or remove a grade of "4", must also enroll for residence. (UP Faculty Manual Section 11.5.6)
Registration for residence should be done within the semester.
However, students who have no course to enroll in, because, to no fault of theirs, none of their remaining courses are offered for that semester, are recommended to enroll for residence. (especially if they are already MRR)
Note: A student who has exceeded the Maximum Residence Rule (MRR) may no longer go on LOA.
LOA is usually reserved for medical reasons only.
A student who does not intend to enroll for a specific term for whatever reason (not disciplinary), but

still has remaining units to enroll

, is not allowed to enroll in Residence, but should file for a Leave of Absence (LOA).
No student shall be graduated from the University System unless the student has completed at least one year of residence work, which may, however, be extended for a longer period by the proper faculty. The student must have been in residence in the semester of graduation. (UP Code Art. 408, as amended at 1359th BOR Meeting on 2021 March 25)


…

Students enrolling in Residence should be asked if they would like Library access. If yes, then Library Fees will be added to their matriculation for that term.
4. Maximum Residence Rule (MRR)
Undergraduate
The prescribed years to finish a degree program is equivalent to 1 ½ times the normal length of the program, as follows:
◘  Certificate Program – 4 ½ years
◘  Bachelor's Degree Program – 6 years
A student who goes on LOA is not in residence during the semester they are on leave, and the LOA should not be counted towards MRR.
A student who has been on official leave of absence for a year and needs only one more semester to complete all requirements is not covered by the one-year residence requirement prior to graduation.


…

Masters
The time limit for the completion of all master's degree requirements shall be five (5) years.
The counting of the period of residence shall start from the student's first enrollment in a graduate course after admission into the master's program and shall include all leaves of absence from the program.


…

See rules for granting of Extension of Residence
Note: Students who appeal for Extension of Residence may no longer apply for LOA during their approved extension period.
5. Waiver of Prerequisites
In meritorious cases, students who have previously enrolled and fully attended a course that is a prerequisite to another may be allowed to enroll in and attend the latter course for credit, without having passed or earned credit for the prerequisite course. Permission shall be granted only upon application by the student.
The student who is granted permission under these rules is required to enroll in the prerequisite course

simultaneously

with the course to which the former is a prerequisite,

or immediately in the next semester

. (745th BOR Meeting on 1966 April 21)
Automatic waiver of prerequisites was granted to students only until the Second Semester AY 2020-2021. (OVPAA Memo 2021-19 dated 2021 February 2)
A student enrolled in a course in AY 2020-2021 that is a prerequisite to another shall be allowed to enroll in the latter course for credit in AY 2021-2022, despite having a grade of INC. University policy on waiver of prerequisites may be followed in evaluating enrollment in course/s where the prerequisite course/s has no grade or is DRP. (OVPAA Memo 2021-122 dated 2021 September 6)
The waiver of prerequisite may still be applied even for cases where the grade in the prerequisite course is either a Deferred grade turned to a DRP or a DRP, provided the faculty certifies (through the Waiver of Prerequisite Form) that the student completed the course but failed due to non-compliance. But if the student did not complete the course and dropped it in the middle of the semester, then the waiver of prerequisite may not be applied.

6. Cross-Registration
Given the remote mode of teaching and learning, students may be allowed to cross-register course/s in other CUs, or other Universities if allowed, even if they are enrolled in their home unit, subject to university procedure on cross-registration. (OVPAA Memo 2021-122 dated 2021 September 6)
7. Retention Policy
For BS Biology, student must pass BIO 11, BIO 12, BIO 13, and CHEM 23 within the first two years in order to stay in the program.
For

BS Management

, student must maintain a General Weighted Average (GWA) of 2.75 or better. The GWA shall be assessed on an annual basis (end of the academic year). [Retention Policy]
8.
General Education (GE)

Courses
All students following the new GE curriculum (starting 2018) must take 24 units of core GE (ARTS 1, COMM 10, ETHICS 1, KAS 1, MATH 10, SAS 1, SCIENCE 11, STS 1) and 12 units of elective GE, for a total of 36 units of GE courses.
Note: The 6-unit Philippine Studies requirement* is no longer applicable for students following the new 2018 curriculums.
The following courses are equivalent (as approved by the Chancellor on 2019 August 23). If a student has completed one, she/he should not take the other as only the first one will be credited. For instance, if the student has already completed HIST 1, then she/he should no longer take KAS 1 as only HIST 1 will be credited.

KAS 1 is equivalent to HIST 1
MATH 10 is equivalent to MATH 1
STS 1 is equivalent to STS 40

No other equivalencies have been approved. As per OVPAA, for any kind of substitution of GE, "the faculty experts and the subject coordinators (if there are) or the GE Committee of the CU be the ones to evaluate courses for substitution, based on the recommendations of the respective course developers from the CUs."
COMM 2 and COMM 3 cannot be credited as GE effective AY 2018-2019.
College of Science students, following the old RGEP curriculum prior to 2018, are not allowed to take MATH 10 (MATH 1).
Students in the old RGEP curriculum may satisfy AH (Arts and Humanities) Domain GEs from CCAD offerings, MST (Mathematics, Science and Technology) Domain GEs from CS offerings, and SSP (Social Sciences and Philosophy) Domain GEs from CSS offerings. The updated list linked above also indicates which GEs satisfy the 6-unit Philippine Studies requirement*.

GE courses may not be credited if taken outside of the University.
9.
Electives
An elective is any non-GE course offered within the UP System (including of course within UP Cebu) or any course taken at any foreign university with an existing academic exchange program with UP Cebu, approved by the Program Faculty.
General Education courses

cannot

be credited as electives.
Any course not required in the program can be credited as free elective as long as the course prerequisites are met. The student must meet the course prerequisite in order for the course to be credited as an elective.
In cases where the electives taken are more than those required in the program, the following procedure shall be used in selecting the electives to be credited and included in the computation of the GWA: (UP Faculty Manual Section 11.20.2)

for students who

did not shift

programs, the required number of electives will be considered in chronological order.
for students who

shifted

from one (1) program to another, the electives to be considered shall be selected according to the following order of priority:
1) Electives taken in the program where the student is graduating will be selected in chronological order;
2) Electives taken in the previous program and acceptable as electives in the second program will be selected in chronological order;
3) Prescribed courses taken in the previous program but qualify as electives in the second program will be selected in chronological order.
10.
Supplementary Classes (SP)

, COMM 1SP or MATH 11SP
COMM 1SP and MATH 11SP are supplementary classes that have to be taken by students who have been identified by the UP Office of Admissions (through their UPCAT scores or admission test scores) as having low marks in English and Math, respectively.
SP Classes are to be taken as a non-credit course in their first year of study.
11.
NSTP

and

PE
NSTP is required for all students, both male and female.
Each student is required to take 3-unit courses for 2 semesters (6 units total).
The NSTP has the following service components:
(1) Reserve Officers' Training Corps (ROTC), which is optional and voluntary;
(2) Literacy Training Service (LTS); and
(3) Civic Welfare Training Service (CWTS).
Students must take NSTP 1 first before NSTP 2.

Students must take NSTP 1 and 2 from the same component.

For example, if a student has taken CWTS 1, then she/he should take CWTS 2. If a student has taken ROTC 1, she/he should take ROTC 2.
If the student is a transferee and has taken NSTP in her/his previous school, her/his NSTP course/s is/are automatically credited, and need not be validated.
Basic Physical Education (PE) is a prerequisite for graduation.
Eight (8) units of PE are required of all undergraduates.
PE and NSTP courses are non-credit units as indicated by a parenthesis in credit units, and are not counted towards the student's total credit load that semester for underload or overload.
12.
Thesis

(300)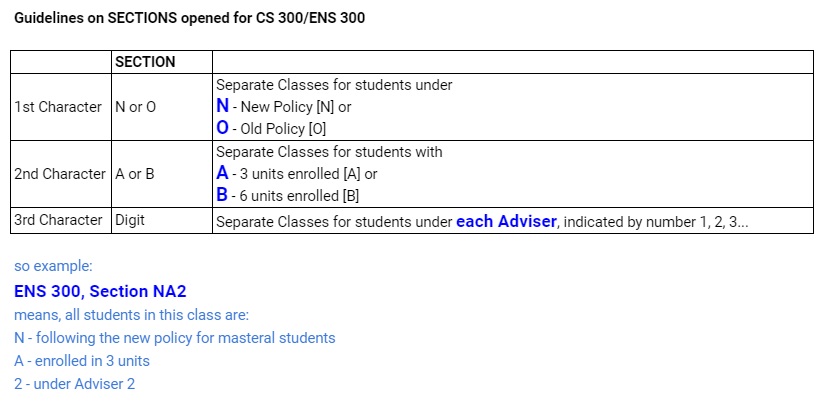 13. Shifting
14. Underload
The following students are considered

underload

:

in residence, see #3 above
registered in less than 15 units

(12 units for AY 2020-2021 and AY 2021-2022)

registered in more than 15 units (12 units for AY 2020-2021 and AY 2021-2022)  at the start of the semester but who DRP course(s) which will lead them to have less than 15 units remaining in the semester (total units enrolled – total units DRP < 15 units) (12 units for AY 2020-2021 and AY 2021-2022)
Students who are underload will be automatically disqualified from graduating with honors

unless

it is their semester of graduation and they have no other remaining units.
Students who are candidates for graduation with honors must have taken during each semester not less than 15 units of credit

(12 units for AY 2020-2021 and AY 2021-2022)

or the normal load prescribed in the curriculum in cases where such normal load is less than 15 units, unless the lighter load was due to justifiable causes such as health reasons, the unavailability of courses needed in the curriculum to complete the full load, or the fact that the candidate is a working student. (UP Code Art. 414 as amended at 884th BOR Meeting on 1977 March 31)
To justify underloading, the submission of pertinent documents is required (approved by the UP President on 1981 October 18) (UP Faculty Manual Section 11.6.1a)


for health reasons

– medical certification to be confirmed by the UP Cebu Health Services Unit (HSU);


for unavailability of subjects

– certification by the adviser of no more courses to enroll and copy of schedule of classes;
for employment – copy of payroll and appointment papers indicating, among others, the duration of employment
It is the responsibility of the student to establish the veracity of the cause(s) of underloading. It is required that documents submitted to establish the cause(s) of the light loading must be sworn to. THESE DOCUMENTS MUST BE

SUBMITTED DURING THE SEMESTER OF UNDERLOADING

.
15. SAIS
If a student cannot enlist, please check the following:
16. Free Higher Education Privilege
---

During the Pandemic

A. Academic Calendar, Classes, and Deadlines

A.1 Calendar and Deadlines

The Board of Regents in its 1361st meeting on 2021 May 27 approved the semestral academic calendar for AY 2021-2022 following a 15-week semester and 7-week midyear to facilitate the management of the academic load of students and the faculty workload. There is no change in the number of class weeks in the trimestral academic calendar. (OVPAA Memo 2021-122 dated 2021 September 6)

In view of the continuing extraordinary stress we are experiencing at this time, please give consideration on a case-to-case basis, to students who are unable to meet deadlines due to their difficult circumstances. (OVPAA Memo 2021-122 dated 2021 September 6)

Deadline
Completion of DFR (Deferred) grade 1 incurred in the Second Semester AY 2019-2020, that does not require face-to-face activities

2021 July 16, Friday


(OVPAA Memo 2021-19A)
Completion of DFR (Deferred) grade 1 incurred in the Second Semester AY 2019-2020, that requires face-to-face activities
[only for BIO 199 A and BIO 199 H]

until the immediate term when face-to-face is allowed


(OVPAA Memo 2021-19A)
Removal of INC (Incomplete) or 4.0
click here

Request for a numeric grade from a "Pass" grade incurred in the Second Semester AY 2019-2020

in perpetuity


(11th UP Cebu University Council Meeting on 2020 July 15)
Deadline for Dropping and Leave of Absence for the Second Semester AY 2020-2021
2021 June 11
(OVPAA Memo 2021-61A)
Deadline for Dropping and Leave of Absence for the First Semester/ Trimester AY 2021-2022
As specified in the approved academic calendar
(OVPAA Memo 2021-122 dated 2021 September 6)

Note:
1 If a student applied for honorable dismissal before indicated deadline, courses with deferred grade will be given a DRP by the faculty concerned. However, if the student complied with the requirements prior to application for honorable dismissal, then a final grade should be given by the faculty. (OVPAA Memo 2021-19 dated 2021 February 2)
* Annotation of DRP submitted beginning 2nd Semester AY 2019-2020 until the First Semester/Trimester AY 2021-2022 will be "due to the COVID-19 pandemic" (OVPAA Memo 2021-89 dated 2021 June 14; OVPAA Memo 2021-122 dated 2021 September 6)
** An INC incurred for a course in the First Semester AY 2020-2021 that is not completed within the prescription period of one year will remain an INC and annotated with "due to the COVID-19 pandemic" (OVPAA Memo 2021-19A dated 2021 February 15)
*** Other deadlines such as registration for residence are found in the UP Cebu Academic Calendars, linked above.

A.2 Class Size

For AY 2020-2021, the recommended class size is 25 for an undergraduate course and 15 for a graduate course subject to the nature of the course and the availability of faculty resource of the academic unit. (OVPAA Memo 2021-19 dated 2021 February 2)

The Board of Regents (in its 1361st Meeting on 2021 June 2) approved the retention of a class size of 25 for AY 2021-2022. (OVPAA Memo 2021-89 dated 2021 June 14)
For the First Semester/Trimester AY 2021-2022, except in the UP Open University, the recommended class size is not to exceed 25 for an undergraduate course and 15 for a graduate course, subject to the nature of the course and the faculty resource of the academic unit. (OVPAA Memo 2021-122 dated 2021 September 6)

A.3 Reading Break

The reading break allows students to catch up, focus and understand the course learning materials given them. They may do advance reading or simply take a break from grappling with heavy course demands, on the one hand, and a high level of COVID19-induced anxiety, on the other. For faculty members, this break may be a time to further reflect on adjustments to be made in course delivery and assessment, if any, or to rest from close monitoring of learning among their students. During the Reading Week, there should be no synchronous sessions nor asynchronous activities or assessments. Deadlines for course requirements should also not be set on these dates. (OVPAA Memo 2021-61 dated 2021 April 19; OVPAA Memo 2021-122 dated 2021 September 6)

---

B. Admission and Registration

B.1 Tuition and Other School Fees

B.2 Academic Load

In the Midyear 2021, students may enroll up to 9 units of course credits. (OVPAA Memo 2021-19 dated 2021 February 2)
The Board of Regents (in its 1361st Meeting on 2021 June 2) approved the retention of a 12-unit regular student load for AY 2021-2022. (OVPAA Memo 2021-89 dated 2021 June 14; OVPAA Memo 2021-122 dated 2021 September 6)

B.3 Attendance

Optional Attendance in Synchronous Classes
The faculty is reminded that attendance in synchronous classes should not be required because of the current state of the country's internet infrastructure. Recordings of the synchronous classes should be made available to the students for the whole semester. While assessment/graded activities may be done during class times, alternative arrangements for students who miss the same should be made. (OVPAA Memo 2021-61 dated 2021 April 19; OVPAA Memo 2021-122 dated 2021 September 6)
Assessments such as examinations (written or oral) may be scheduled during class time. Item 4 of OVPAA Memo No. 2021-61 does not disallow this. Attendance during synchronous classes should not be required and students should be allowed to make up for any graded activities given synchronously or asynchronously. The faculty should also make arrangements, such as providing the recording of the synchronous classes, for students who miss synchronous classes. (OVPAA Memo 2021-61A dated 2021 April 28)

---

C. Academic Rules and Policies

C.1 No Fail Policy

Since the COVID-19 pandemic has not abated, the no-fail policy applied during the First Semester AY 2020-2021 remains in place until the First Semester/ Trimester AY 2021-2022. A faculty member may DROP a student whose status is failing or whose performance is unsatisfactory, but no student shall receive a grade of 4 or 5 for the First Semester/Trimester AY 2021-2022. (OVPAA Memo 2021-61 dated 2021 April 19; OVPAA Memo 2021-122 dated 2021 September 6)

Faculty members are enjoined to exercise utmost prudence in using the DROP option for students in difficult circumstances due to the COVID-19 pandemic, who in their judgment, are nevertheless striving to meet academic requirements. (OVPAA Memo 2021-122 dated 2021 September 6)

The "no fail policy" is not applicable in cases where the student has been found to be guilty of intellectual dishonesty. University procedures should be followed in processing student disciplinary cases. (OVPAA Memo 2021-122 dated 2021 September 6)

Per OVPAA Memo 2021-61A and OVPAA Memo 2021-122,
the following guidance on grading of students is given in relation to the implementation of the no fail policy:
Grade

Students who never participated in class nor communicated with the course instructor/s

DRP a

Students with incomplete requirements and failing standing

INC b

Students with incomplete requirements but failing standing even if they receive perfect score/s in their lacking requirement/s

DRP a

Students with incomplete requirements but passing standing

INC b

Students with complete requirements but failing standing

DRP a

Students with complete requirements and passing standing

Numeric

Students enrolled in courses such as laboratory, thesis, dissertation and others that require face-to-face activities for the completion of requirements will have their grades deferred in consonance with OVPAA Memo 2021-19A unless alternatives are determined as provided by OVPAA Memo 2021-57. In which case, a grade will be given.

Deferred or Numeric

Students may opt to voluntarily drop the course

DRP a

Student may choose to file for Leave of Absence (LOA)

usual LOA rules apply

a Annotation of DRP submitted beginning 2nd Semester AY 2019-2020 until the end of the First Semester/Trimester AY 2021-2022 will be "due to the COVID-19 pandemic" (OVPAA Memo 2021-89 dated 2021 June 14; OVPAA Memo 2021-122 dated 2021 September 6)
b An INC incurred for a course in the First Semester AY 2020-2021 until the First Semester/Trimester AY 2021-2022 that is not completed within the prescription period of one year will remain an INC and the student will have to re-enroll the course if it is required in the student's curriculum. The INC in the transcript of records will be annotated with "due to the COVID-19 pandemic". Should the student opt to re-enroll a course, for which s/he earned an INC, in the subsequent term and later decide to complete the INC during the prescription period, s/he should first drop the re-enrolled course. (OVPAA Memo 2021-19A dated 2021 February 15; OVPAA Memo 2021-122 dated 2021 September 6)

C.2

GWA

(General Weighted Average)

On the weighted grade average
Given the circumstances of the Second Semester AY 2019-2020 i.e., the University's shift to remote learning without much preparation due to the COVID-19 pandemic and the end of classes on 30 April 2020, numerical grades earned in that semester are not for inclusion in the computation of the weighted grade average. (OVPAA Memo 2021-19A dated 2021 February 15)

Regarding the appeal of the UP Cebu Student Council (for inclusion of the Second Semester AY 2019-2020 grades in the computation of the GWA), the PAC (President's Advisory Council) affirmed its earlier agreement to allow the inclusion of numeric grades in the computation of the GWA for scholarships, employment, applications to graduate school and other justifiable reasons but not for Latin honors because the COVID-19 pandemic disrupted the Second Semester AY 2019-2020 and the grades obtained then do not reflect the same level of achievement in the regular semesters. (in a letter by VPAA Bautista to the Student Regent dated 2021 June 22)

Grades in the First Semester/Trimester AY 2021-2022 are included in the computation of the general weighted average (GWA). (OVPAA Memo 2021-122 dated 2021 September 6)

In the computation of the final GWA of students who are candidates for graduation with honors, only resident credit shall be included. (UP Code Art. 413)

C.3 Suspension of Academic Rules/Policies

The Board of Regents (in its 1361st Meeting on 2021 June 2) also approved the request of the Office of the Vice-President for Academic Affairs (OVPAA) for the suspension of academic policies, rules, procedures and guidelines that the President and the Presidential Advisory Council (upon recommendation of the Academic Affairs Committee) deem necessary for the coming academic year AY 2021-2022 based on an iterative and critical assessment of anticipated and unanticipated effects of the pandemic, remote learning and the transition to the next normal hopefully starting the Second Semester AY 2021-2022. (OVPAA Memo 2021-89 dated 2021 June 14)

The following academic rules/policies remain suspended for the First Semester/Trimester AY 2021-2022:

C.4 Residence

Graduating students who only need to complete their DFR grades in the Second Semester AY 2019-2020 need not enroll in residence when completing requirements for course/s with deferred grade. Upon completion, these students are considered graduated as of Second Semester AY 2019-2020, retroactive. (OVPAA Memo 2020-81 dated 2020 July 21)

However, students who still have grades of INC or 4.0 incurred in the Second Semester AY 2018-2019 and/or Midyear 2019 and/or First Semester AY 2019-2020 and whose grades were completed/removed in the First Semester AY 2020-2021 or Second Semester AY 2020-2021, need to enroll in Residence and apply for graduation in the term in which they completed their grade.

C.5 Maximum Residence Rule (MRR)

The following terms are NOT counted
towards the Maximum Residence Rule

AY 2019-2020 Second Semester


AY 2019-2020 Third Trimester, MBA c

Implementing Guidelines




(OSU Memo 2020-01-03)

AY 2020-2021 First Semester
AY 2020-2021 First Trimester

OVPAA Memo 2020-143
AY 2020-2021 Second Semester
AY 2020-2021 Second Trimester
OVPAA Memo 2021-89
AY 2021-2022 First Semester
AY 2021-2022 First Trimester
OVPAA Memo 2021-122

Note: Per OVPAA Memo 2021-89, the First and Second Semester of AY 2020-2021, as well as the Second Semester AY 2019-2020 will not be counted towards the Maximum Residence Rule (MRR).
c The M Education Program did not have a Third Trimester AY 2019-2020