82nd Commencement Exercises
---
Important Dates
June 27, Thu
9:00 am
AM Rehearsal
2:00 pm
PM Rehearsal
June 28, F
8:30 am
Baccalaureate Mass (PAH) and
Ecumenical Service (AVR 1)
3:30 pm
Assembly Time
Commencement Exercises
---
Things to Remember
During rehearsals, please bring your sablay, so you can practice the shifting from the right shoulder to the left.
The dress code is discussed in a separate document. Required attire is worn with the UP Sablay.
Each graduating student is allowed two guests who will be provided ribbons to be pinned on their chests to identify them. The guests are allotted seats during the commencement exercises.
Graduating students who cannot attend the rehearsal and graduation due to work-related, school-related or health reasons should inform the Office of the University Registrar in writing.
Graduating students are advised to take a heavy meal before the graduation ceremony.
Assembly time for the program is 3:30 PM, 28 June 2019, Friday, in front of the Administration Building.
Processional starts at 4:00 PM.
Once the processional starts, no candidate should break the line to attend to other matters.
To ensure the solemnity of the ceremony and avoid overcrowding, family or friends who wish to take pictures of the graduating student should stay in the designated area.
The Commencement Exercises is a recognition of the accomplishment of the student and of all the people who supported her or him along the way. Graduating students give honor to everyone by respecting the ceremony.
---
What to Wear with the Sablay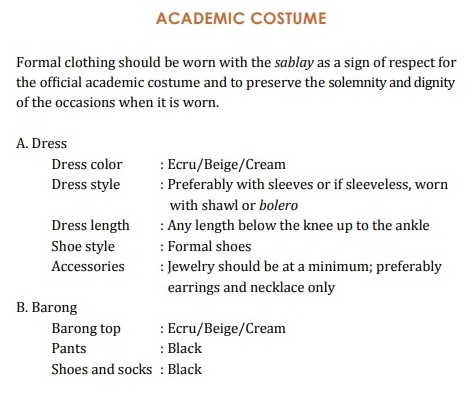 [as approved at 1315th BOR Meeting on 2016 February 26]
Click here to view the animated version on how to shift the sablay.